Clay on Display 2023 | 2 – 29 October 2023
WHEN: 2 to 29 October 2023
WHERE: The Redcliffe Fire Station Gallery, 395 Oxley Avenue Redcliffe
This is an annual event which showcases and celebrates our members works of art. Hosted locally in Redcliffe, this year our exhibition is a month long event and is open to the public. 
Our members will be displaying works in a range of categories including wheel-throwing, hand building, sculptural, and new categories 'Of the Sea' and miniature pieces!
Entry is free.
The Gallery is open 10 am to 3 pm Wednesday through Sunday
More details to come! Keep up to date on Facebook and Instagram. 
Arts and Crafters Market | November 2023
WHEN: 25 November 2023 | 9 am to 2 pm
WHERE: 395 Oxley Avenue Redcliffe
If you missed July's markets then there will be one more chance this year – just in time for Christmas.
Brought to you by the Moreton Bay Arts Council these markets include over 50 market stalls, exhibitions at the Art Gallery, artisan demonstrations and music on the lawn.
Free entry, free and accessible parking, undercover seating, dog friendly, and inclusive amenities.
Find out more here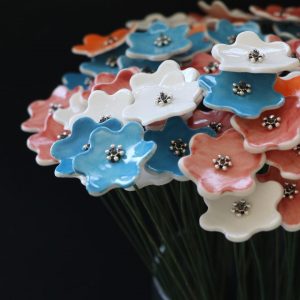 SHOP!
Did you know RPG has its own pottery shop filled with unique handmade pieces from our talented and creative members. Shop for that unique piece for yourself or someone special.
Sculpture, kitchenware, decorative pieces, jewellery and more!
Pop in Wednesdays, Thursdays or Saturdays between 10 am and 3 pm.
You can pay with Square using your preferred credit/debit card.
your studio...a home away from home