Christmas Exhibition | Nov/Dec
WHEN:
 29 November – 22 December 2023 
9
 am to 2 pm (Wednesday to Sunday)
WHERE: Old Fire Station Gallery, 395 Oxley Avenue Redcliffe
Creative members of the Redcliffe Pottery Group and the Redcliffe Art Society will be bringing their extraordinary and unique talents to RPG + RAS Christmas Exhibition.
Explore unique creative arts and handmade ceramics, paintings, sculpture, and mixed media. All items will be for sale making it the perfect opportunity to purchase something unique for your loved one for Christmas or other special occasion.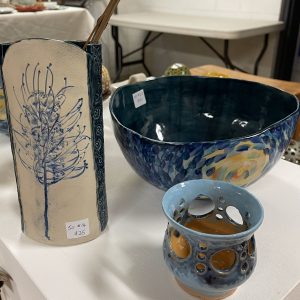 SHOP!
Did you know RPG has its own pottery shop filled with unique handmade pieces from our talented and creative members. Shop for that unique piece for yourself or someone special.
Sculpture, kitchenware, decorative pieces, jewellery and more!
Pop in Wednesdays, Thursdays or Saturdays between 10 am and 3 pm. Or Tuesday and Thursday 6 – 9 pm.
You can pay with Square using your preferred credit/debit card.
your studio...a home away from home